Introduction
The National Assessment and Accreditation Council (NAAC), Bangalore requires that each accredited institution establish an Internal Quality Assurance Cell (IQAC) post accreditation. The purpose of the same is to maintain quality. NAAC suggests that IQAC shall put all effort and take measures towards the promotion of holistic academic excellence of the institution. The Internal Quality Assurance Cell is a crucial cell for institutionalization of quality. The cell will strategize initiatives in the college to fill the gaps and deficiencies to ensure quality and performance.
Quality Policy:
Ness Wadia College of Commerce is committed to providing quality education in the commerce faculty as per the guidelines of Savitribai Phule Pune University, University Grants Commission and the Government of Maharashtra. The cell has been active since its inception in 1998 It monitors all the academic and administrative activities and is also responsible for its follow-up.
The Primary intent of the IQAC comprises
According to NAAC
To develop a system for conscious, consistent and catalytic improvement in the overall performance of institutions.
To promote measures for institutional functioning towards quality enhancement through institutionalization of quality culture and best practices.
Certificate Accreditation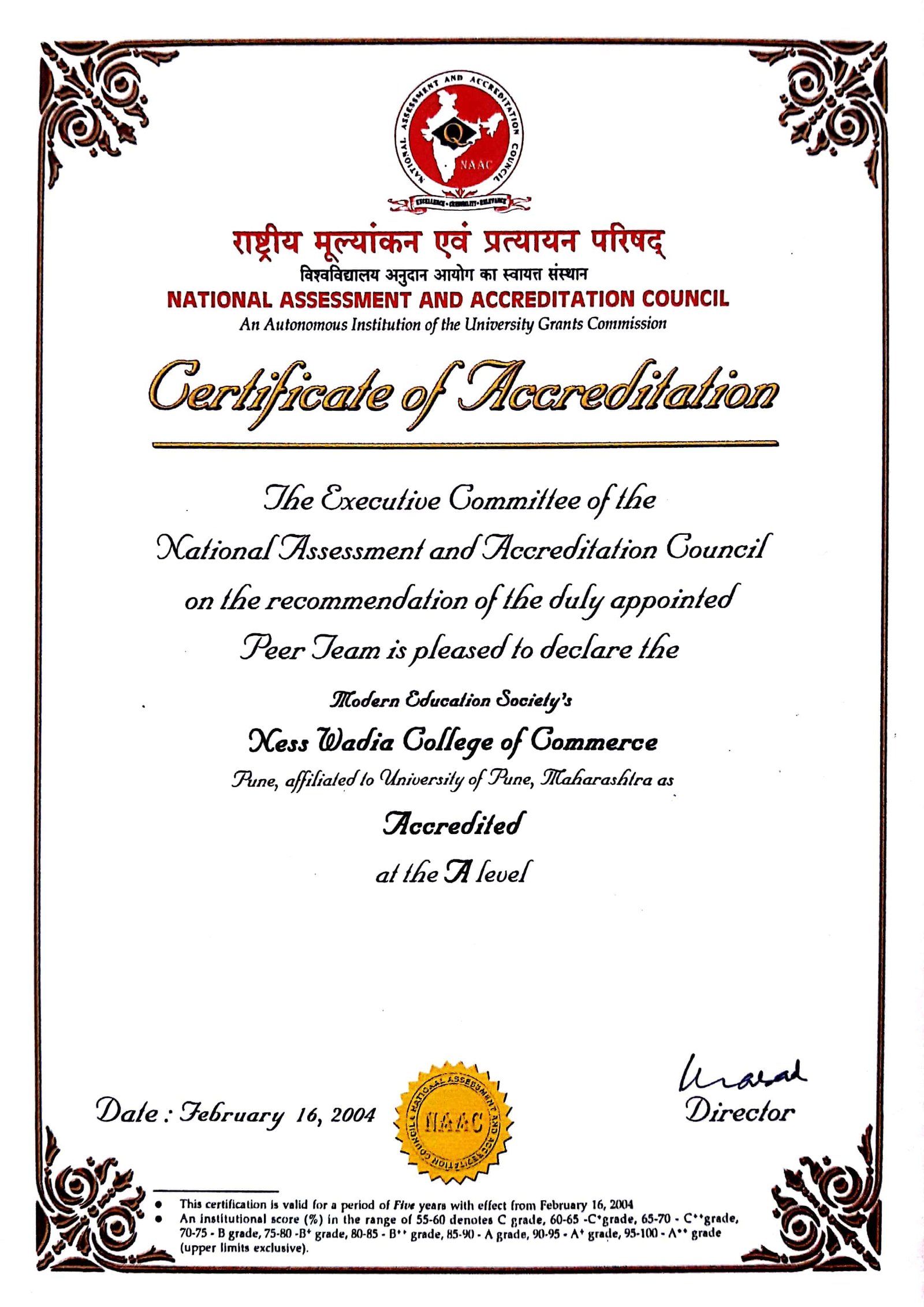 Certificate Accreditation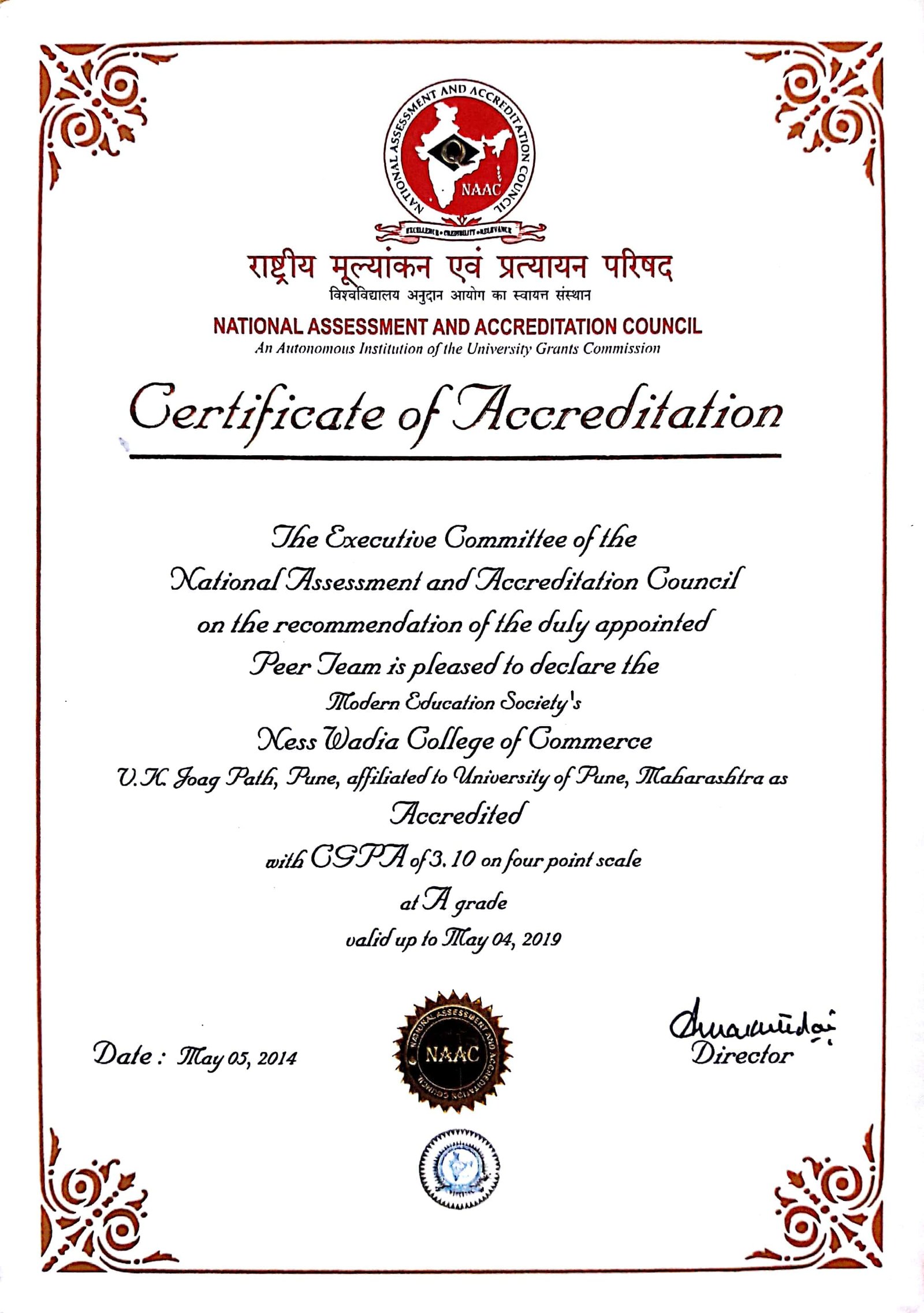 Objectives of IQAC
Ensure heightened level of clarity and focus in institutional functioning towards quality enhancement;
Ensure internalization of the quality culture;
Ensure enhancement and integration among the various activities of the institution and institutionalize good practices;
Provide a sound basis for decision-making to improve institutional functioning;
Act as a dynamic system for quality changes in SPPU; Value Framework
The IQAC of the College works towards promotion of the following core value framework:
Contributing to National Development
Fostering Global competencies
Inculcating a value system among students
Promoting the use of Technology
Quest for Excellence
IQAC In Action
The IQAC of the Ness Wadia College of Commmerce is an important cell of the college which has initiated strategies to better monitor and supervise academic and administrative institution. The College was awarded an 'A' grade in the two cycles of Accreditation which is an indication of the quality and academic standards of the college.
IQAC Composition
| Sr. No | Name of the Members | Position |
| --- | --- | --- |
| 1 | Dr. Vrishali Randhir | In-Charge Principal & Chairperson |
| 2 | Dr. Manohar Sanap | Member |
| 3 | Dr. Mahendra Agale | Member |
| 4 | Dr. Bharat Rathod | Member |
| 5 | Ms. Priyadarshini Hapse | Member |
| 6 | Dr. Prakash Chaudhary | Member |
| 7 | Dr. Dipak Wayal | Member |
| 8 | Mr. Sachin Sanap | Management Representative |
| 9 | Dr. Ashok Chandak | Management Representative |
| 10 | Mr. Jagdish Thakur | Administrative staff |
| 11 | Ms. Sangeeta Bhandwalkar | Administrative staff |
| 12 | Mr. Amol Gaikwad | Administrative staff |
| 13 | Mr. Suresh Todkar | Nominee from Local Society |
| 14 | Mr. Anil Kakade | Nominee from Alumni |
| 15 | Dr. Sanjay Kaptan | Nominee from Employers/ Industrialists/ Stakeholders |
| 16 | Dr. R.B. Sonawane | Sr. Teacher as the Co-Ordinator |
Re-accreditation Report (RAR)
Student Satisfactory Survey Report
Student Feedback